Yes, yes, I'm late. But I wanted to finish the new Thursday Murder Club before I posted. And I had to climb into the loft to turn on the heating, now that I've won that argument.
Three strong books this last month, well suited to the season of pumpkin spiced lattes, scarves and Ugg boots.
***
The Harm Tree by Rose Edwards
I think in many ways, the novel is technically flawed and could be improved. There were some things I wanted Edwards to expand on and others I wanted her to cut back. But I don't want to focus on that; I'd rather talk about the feeling it created, because Edwards has got so much right in her debut novel.
There's something utterly immersive about the way Edwards wields language. Some of her phrases don't just strike a chord, they perform an entire score that's simultaneously familiar and new. There's a great deal I really admired about Edwards' novel: the Norse-inspired world is richly built, the characters have distinct voices, Edwards doesn't patronise her YA audience and the female characters defy vapid, fantasy tropes.
I'll definitely be reading future books from this author.
Rating: ❤️❤️❤️❤️🤍
***
The Guest List by Lucy Foley
I worked out all but one of the twists and whodunnits in Foley's novel. As you can see on the front cover, Horowitz says it's a 'very clever' book and my extremely smart chum, Suzi (go follow her on Twitter), says she didn't figure it all out and enjoyed "the genuine surprise." So I'm thinking I should become a mastermind criminal, detective or crime writer… because I'm rarely surprised by crime novels, TV shows or movies. Is there something wrong with me?! Anyway, my smugness didn't detract from my overall enjoyment of the book.
I think Foley might have done something quite clever with The Guest List and I hope it was deliberate. For the first half of the book, I didn't like a single character. This is usually a complete turn off for me because it means I'm not invested in what happens to them and it's the main cause for me to give up on a book. But, somehow, Foley balanced this with a sufficiently interesting plot and setting that meant I persevered. Towards the end of the novel, there were a few women I'd warmed to but the men could literally all get in the sea – they embodied privilege, toxic masculinity and drunk, obnoxious, manchild behaviour.
Unlike some other reviews I've looked at, I liked the gothic, gloomy setting; it was a useful plot point (isolating a group of people of a stormy island), as well as matching the overall secret-death-revenge vibe . Although the clues were heavy handed and I'd solved it long before the end, I rather liked the slowness of the story structure, told by multiple people.
Rating: ❤️❤️❤️❤️🤍 (I much preferred it to The Dinner Guest)
***
The Man Who Died Twice by Richard Osman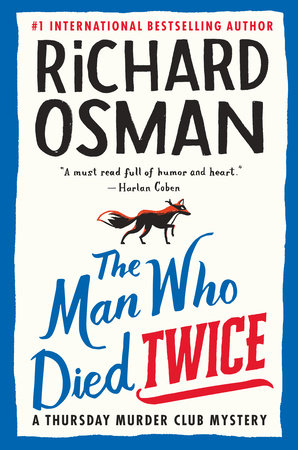 The plot is a little broader than the first book, including some spy stuff, ex-husbands, diamonds, the mafia, drugs and therapy. And a sprinkling of romance but not so much that it put me off.
I understand that it won't be everyone's cup of tea but there's something quintessentially British about Osman's series (we can call it a series now that Penguin is offering a pre-order of the third book) which really appeals to me. It feels like a perfect, autumn Sunday: a walk in the woods with the dogs kicking up leaves, a roast dinner, a board game, a pair of fluffy socks, a hot chocolate (or mulled cider) and a re-run of David Suchet's Poirot on ITV. It's familiar and cosy whilst offering sufficient twists to keep my interest piqued.
The characters are the biggest draw, I think. The second instalment provides more depth to their backgrounds and the multiple moral dilemmas offer greater insight into their personalities. I aspire to be even a little like Elizabeth when I pass through middle age into my golden years… Of course I'd like to be like Joy but I don't think I'm kind enough!
It's a big, fat yes from me. I really worried that offering up a sequel so quickly would mean Osman fell into the trap of producing formulaic stories but this couldn't be further from the reality. I listened to the book via Audible and Lesley Manville is a stellar narrator. There's also a bonus conversation between Manville and Osman at the end of the book, which I enjoyed.
Rating: ❤️❤️❤️❤️❤️ (because it delivered exactly what it promised)